Pro-Vice-Chancellor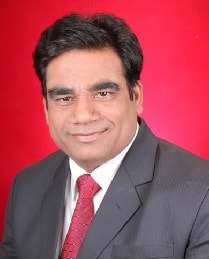 PROFESSOR (DR.) ANIL KUMAR RAI
Mahatma Gandhi Central University
Motihari - 845 401,
District - East Champaran, Bihar
Mob.: +91-9102296666, 9422905749
Email: raianilankit@gmail.com
Professor (Dr.) Anil Kumar Rai has obtained his academic qualifications B.A. Hon's, M.A., M.Phil., Ph.D. from University of Delhi, Delhi and BJMC, MJC, Ph.D. degrees in Journalism and Mass Communication from different reputed Universities. He has more than 25 years of teaching, research and media profession experience. He has established Mass Communication department in VBS Purvanchal University, Jaunpur, Uttar Pradesh and worked there as Head of the Department from Dec. 1998 to Sept. 2008. Prof. Rai worked as Reader and Head of Electronic Media Studies department in KT University of Journalism & Mass Communication, Raipur, Chhattisgarh from October 2008 to July 2009. Before joining Mahatma Gandhi Central University, Motihari (Bihar) to the post of Pro-Vice-Chancellor, Prof. Rai worked as a Professor and Head, Department of Mass Communication in Mahatma Gandhi Antarrashtriya Hindi Vishwavidyalaya, Wardha, Maharashtra w.e.f. July 2009.
His area of specialization is electronic media, especially television programme production and reporting. He has written/ edited/ compiled more than one and half dozen books and two dozen research papers in the field of media and mass communication and contributed more than 200 articles in daily news papers and magazines. As an editor, he has been also bringing out the reputed media journal 'Indian Media Studies Journal'. He has been awarded two major research projects – one from UGC and one from NCSTC, DST (Govt. of India).
Before joining VBS Purvanchal University, he has been in media profession as an active journalist with newspapers and TV channel in Delhi in the capacity of correspondent, associate editor and producer/ script writer since 1991.
In 1994, he was invited by B.R. Ambedkar College of Delhi University to develop BA Honors Programme in Hindi Journalism and Mass communication. In addition, it was quite pleasant moment for him to be one of them who has established the honors level programme in journalism and mass communication first time in India.
Prof. Rai has been honoured by several awards like, Bharat Jyoti Award- 2015, Vidarbh Bhusham Award -2015, Utkrishth Shikshak Samman- 2013-14, "Kulbhushan" Manad Upadhi (National Honour)- 2006, Sanchar Shree Award- 2005 for his outstanding contribution in the field of media teaching and profession.